Isabelita Castilho - Certified Hypnotherapist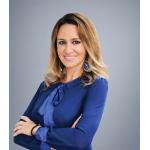 Isabelita Castilho
United Arab Emirates
Dubai
Dubai
isabelita@iccareeradvisors.com
None
Originally from Brazil, having lived in several countries, living in Dubai since 2011, Isabelita Castilho is a certified hypnotherapist specializing in Conversational Hypnosis. Isabelita is a certified member of the IAPCH since July 2019. Isabelita can help you by providing strategic career advice, with a complete successful bespoke roadmap through a coaching program to help you obtain your next job in Dubai or in any other part of the world. Isabelita is the author of the book "All The Secrets of Getting a New Job in Dubai, Unleashed!".
Isabelita has advised many senior executives across the world successfully and many public testimonials (58 up to date) of previous clients can be accessed publicly in her website and on her LinkedIn profile page.
On a personal side, Isabelita loves ongoing self-development, NLP & Hypnosis, animals (especially cats) and maintaining her energy by running and going to the gym.
Through her passion, Isabelita aims to become a renowned public speaker and write many books, while also continue to volunteer to save the stray cats around the world.
Get in touch with Isabelita to schedule a 30 min free assessment.
Contact Me